3.6

Shareholder Information
Listing
SBM Offshore has been listed on Euronext Amsterdam since 1965. The market capitalization as at year-end 2018 was US$ 3.0 billion. The majority of the Company's shareholders are institutional long-term investors.
Financial Disclosures
SBM Offshore publishes audited full-year earnings results and unaudited half-year earnings results, which include financials, within sixty days after the close of the reporting period. For the first and third quarters, SBM Offshore publishes a trading update, which includes important Company news and financial highlights. The Company conducts a conference call and webcast for all earnings releases and a conference call only for all trading updates during which the Management team presents the results and answers questions. All earnings-related information, including press releases, presentations and conference call details are available on the SBM Offshore website. Please see the Financial Calendar of 2019 at the end of this section for details of the timing of publication of financial disclosures for the remainder of 2019.
In 2018, the Company expanded its 'Directional' reporting. In addition to the Directional income statement, reported since 2013, a Directional balance sheet and cash flow statement are also disclosed in section  4.3.2 Operating Segments and Directional Reporting of the Consolidated Financial Statements. Expanding Directional reporting aims to increase transparency in relation to SBM Offshore's cash flow generating capacity and to facilitate investor and analyst review and financial modeling. Furthermore, it also reflects how Management monitors and assesses financial performance of the Company. Directional reporting is reported as an integral component of the Company audited Consolidated Financial Statements under the section 4.3.2 Operating Segments and Directional Reporting. As such, Directional accounts are audited by the Company's external auditor.
Dividend Policy & Capital allocation
The Company's policy is to maintain a stable dividend, which grows over time. Determination of the dividend is based on the Company's assessment of the underlying cash flow position and of 'Directional net income', where a target payout ratio of between 25% and 35% of 'Directional net income' will also be considered.
On May 4, 2018, SBM Offshore paid a cash dividend of US$ 0.25 or EUR 0.2019 per share in relation to the 2017 results, 64% of underlying Directional net income, after adjustment for non-recurring exceptional items concerning compliance-related settlements.
In line with the Company's dividend policy and further taking into account the specific circumstances relating to 2018, including the nature of the non- recurring items, the Company proposes a dividend of US$ 0.37 per share in respect of 2018, to be declared at the AGM on April 10, 2019. This represents a circa 50% increase per share compared to last year and represents a pay-out of circa 25% of Directional 2018 net result. The proposed ex-dividend date is April 12, 2019. The dividend is payable within 30 days following the AGM and will be calculated in US dollars, but payable in euros. The conversion into euros will be effected on the basis of the exchange rate on April 10, 2019. Given the Company's cash position, the dividend will be fully paid in cash.
The Company reviews its dividend policy on a regular basis. The Company plans to simplify the policy by focusing purely on cash flow and removing the additional reference to Directional net income in the policy. This results in the new policy as follows: "The Company's policy is to maintain a stable dividend, which grows over time. Determination of the dividend is based on the Company's assessment of its underlying cash flow position". The proposed change to the dividend policy will be presented for discussion at the AGM on April 10, 2019.
Regarding capital allocation, the Company prioritizes payment of the dividend, followed by the financing of growth, with the option thereafter to repurchase shares, depending on residual financial capacity and cash flow outlook.
Having reviewed the current liquidity position and the resulting cash flow outlook, the Company has determined that it currently has the capacity to fund growth and repurchase shares for an amount of EUR 175 million (c. US$ 200 million). For further details, reference is made to the separate press release on the matter on February 14, 2019.

Share price development in 2018
| | | |
| --- | --- | --- |
| Year-end price | EUR 12.925 | December 31, 2018 |
| Highest closing price | EUR 16.81 | October 9, 2018 |
| Lowest closing price | EUR 10.715 | July 17, 2018 |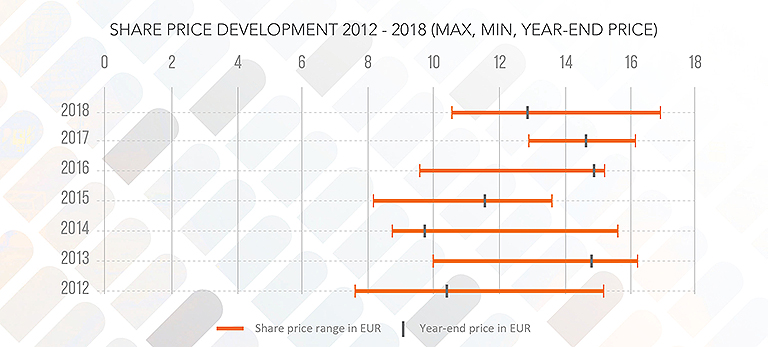 For 2018 the press releases covering the key news items are listed below:
| Date | Subject Press Release |
| --- | --- |
| 16-01-18 | Completion Turritella (FPSO) Handover and Transaction |
| 08-02-18 | 2017 Full-Year Earnings |
| 08-02-18 | Roeland Baan and Bernard Bajolet Proposed as Members of the Supervisory Board |
| 28-02-18 | Annual General Meeting of Shareholders Announcement |
| 11-04-18 | Annual General Meeting of Shareholders − 2018 Resolutions |
| 09-05-18 | First Quarter Trading Update |
| 03-07-18 | Awarded Contracts for ExxonMobil's second Liza FPSO Based on Fast4WardTM Program |
| 05-07-18 | Update on Legacy Issues in Brazil |
| 26-07-18 | Leniency Agreement Signed Between SBM Offshore, Brazilian Authorities and Petrobras |
| 09-08-18 | 2018 Half-Year Earnings |
| 01-09-18 | Agreement Signed Between SBM Offshore and Brazilian Public Prosecutor |
| 10-09-18 | Final Settlement of Yme Insurance Claim |
| 15-11-18 | Third Quarter Trading Update |
| 18-12-18 | Brazilian Fifth Chamber Approved Agreement Between Brazilian Prosecutor and SBM Offshore |
Major SHAREHOLDERS
As at December 31, 2018, the following investors holding ordinary shares had notified an interest of 3% or more of the Company's issued share capital to the Autoriteit Financiële Markten (AFM) (only notifications after July 1, 2013 are included):
| Date | Investor | % of share capital |
| --- | --- | --- |
| 21 December 2018 | FIL Limited | 5.04% |
| 15 November 2018 | Invesco Limited | 3.09% |
| 9 May 2018 | JO Hambro Capital Management Limited | 4.92% |
| 9 November 2015 | Dimensional Fund | 3.18% |
| 18 November 2014 | HAL Trust | 15.01% |
Investor Relations
The Company maintains open and active engagement with its shareholders and aims to provide information to the market which is consistent, accurate and timely. Information is provided among other means through press releases, presentations, conference calls, investor conferences, meetings with investors and research analysts and the Company website. The website provides a constantly updated source of information about our core activities and latest developments. Press releases and presentations can be found there under the Investor Relations Center section.
Financial Calendar
| Event | Day | Year |
| --- | --- | --- |
| Full-Year 2018 Earnings – Press Release | 14 February | 2019 |
| Annual General Meeting of Shareholders | 10 April | 2019 |
| Trading Update 1Q 2019 – Press Release | 16 May | 2019 |
| Half-Year 2019 Earnings – Press Release | 8 August | 2019 |
| Trading Update 3Q 2019 – Press Release | 14 November | 2019 |