2.5.1

Fleet

SBM Offshore's assets are key value drivers for the Company, generating a predictable revenue for SBM Offshore through long-term Lease and Operate contracts. The expertise and experience of around 2,200 offshore crew and onshore staff, supporting the fleet, ensures value creation through safe and efficient operations of the Company's offshore fleet.
KEY FIGURES IN 2018
5.6 billion barrels production cumulated to date
9,286 oil offloads cumulated to date
319 cumulative years of operational experience
2018 represented a year of consolidation and ongoing optimization of the Company's operations. A solid performance was achieved in terms of occupational health and safety and overall asset operational performance, while significant progress was also made on transformation programs such as process safety management and digitalization. These programs are essential to SBM Offshore's work as a forward-looking operator with the ambition of excellence in operational efficiency and incident prevention. Furthermore, SBM Offshore progressed per plan in the readiness activities for the future operations of FPSO Liza Destiny, offshore Guyana.
In 2018, the following changes occured in the fleet operated by SBM Offshore:
Turritella (FPSO): The handover of ownership and operations of Turritella (FPSO) to Shell was concluded in January as planned and

SBM Offshore

supported the client in the transition period to November 2018.
FSO Yetagun terminated operations in April and was decommissioned and sold to new owners. Under the latter's responsibility and in-line with

SBM Offshore

policies and in accordance with the Hong Kong convention, the vessel subsequently entered its green recycling phase.
FSO N'Kossa II was handed over to client TEPC (Total Congo) as planned, following conclusion of the charter contract on

December 31,

2018.

PFC

(

MOPU

) Deep Panuke received notification from Encana Corporation of cessation of gas production in May 2018.

SBM Offshore

is working closely with the client to achieve a smooth decommissioning of the facility.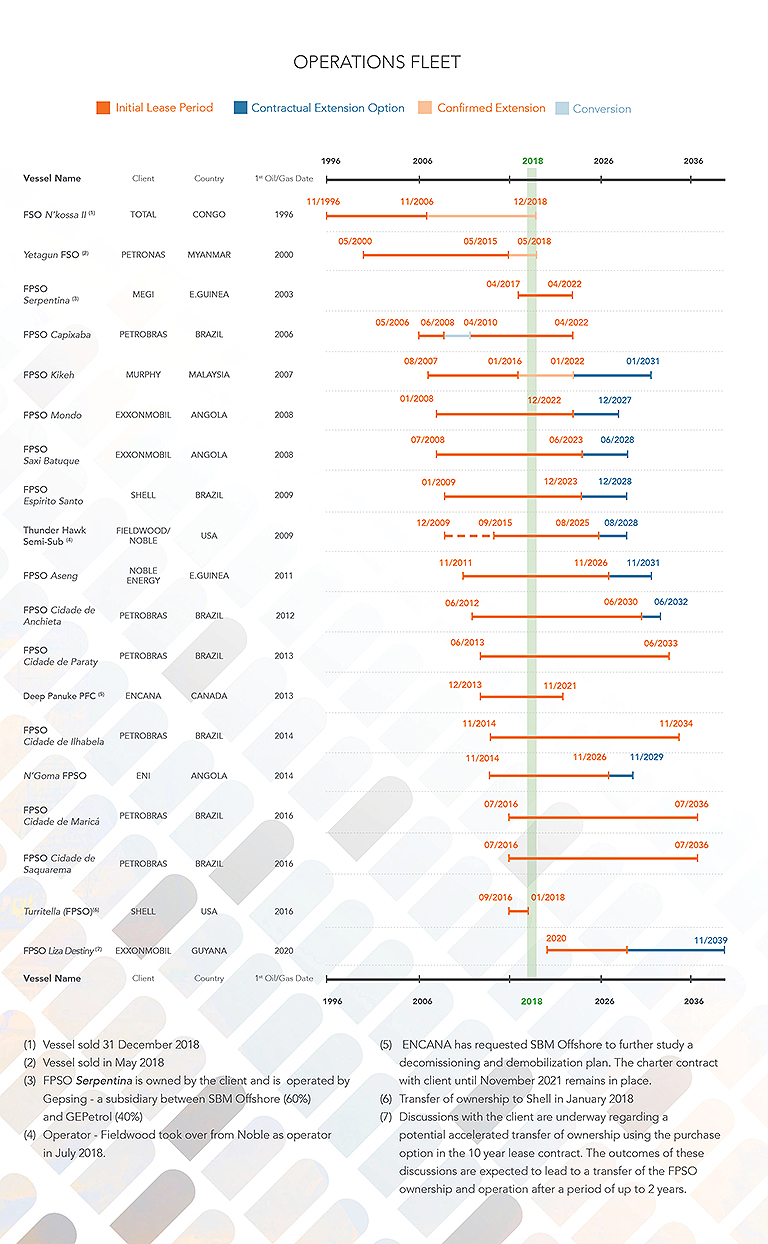 FULL FLEET (AS OF DECEMBER 31, 20181)
At the end of 2018, SBM Offshore was responsible for operating 15 units in the fleet across the globe, consisting of:
13

FPSO

s
1

MOPU

under decommissioning
1 Semi-submersible unit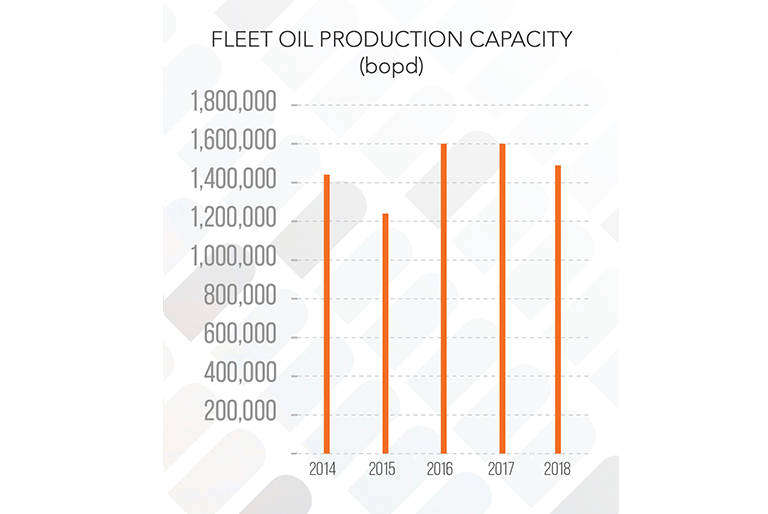 operational performance
SBM Offshore is committed to delivering reliable and safe production performance of its units, whilst adhering to its environmental objectives. The main production performance indicator of the fleet is 'Production Uptime', which measures the percentage of time in which a unit is available to produce. In 2018 production uptime was 98.0%. The unavailability was essentially due to planned maintenance and life-time extension activities on FPSO Capixaba, which progressed in line with the yearly plan. The underlying performance of the remainder of the fleet was at 99.2% uptime, and in particular, the latest generation 'G3' fleet of four FPSOs in Brazil's Santos basin continued to deliver strong performance at nameplate throughout, with an uptime of 99.4%.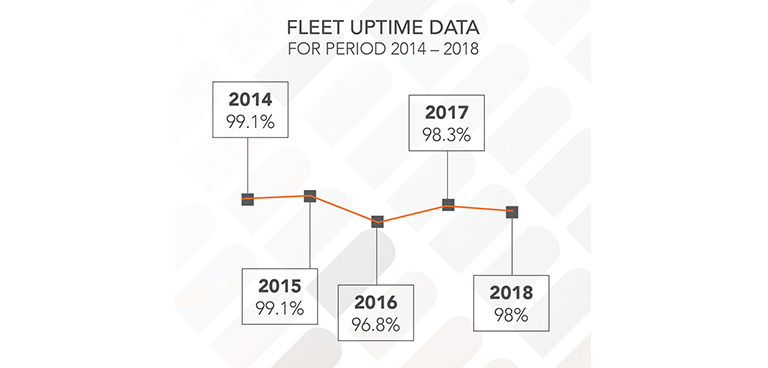 Various initiatives were undertaken in 2018 to reinforce operational quality and efficiency through:
Continued focus on leadership and talent development in the offshore organization.
Improved integration of back-office Fleet Engineering Support.
Restructuring of OPS (

JV

of SBM Offshore and Sonangol) in Luanda.
Progress on integrated planning, encompassing all required activities onboard, and with the objective of reaching maturity in 2019.
Digitalization continued to advance applications for further optimization of assets' performance and asset integrity programs. A centralized Operational Intelligence and Performance Optimization Center (OIPOC) was opened that will support the fleet through digital applications.
Asset integrity, maintenance AND cost management
SBM Offshore's approach to asset integrity is to target asset preservation with optimal lifecycle costing. Progress was made on:
Digitalization: the digital journey continues to advance applications for further optimization of the assets integrity program.
Process Safety culture: significant steps were taken to improve process safety management capability, with the roll out of behavioural rules to prevent the occurance of process safety events. Process safety leading

KPI

s were also launched, with particular focus on Management of Change (MOC) and maintenance of safety critical equipment as key drivers in major incident prevention.